Ever wonder what it would taste like if you could lick the icy surface of Jupiter's Europa? The answer may be that it would taste a lot like that last mouthful of water that you accidentally drank when you were swimming at the beach on your last vacation. Just don't take too long of a taste. At nearly 300 degrees (F) below zero your tongue will stick fast.
The composition of the surface of Europa has been hotly debated since the Galileo mission attempted to make detailed measurements more than a decade ago. Galileo's tool for measuring the composition was spectroscopy – looking at the sunlight that reflects off of the surface of Europa and seeing which molecules leave characteristic fingerprints in that reflected sunlight. It's a powerful technique, one that led to the initial discovery of water ice on the Galilean satellite, the discovery of frozen methane on distant bodies like Eris and Pluto and Makemake, and is even used on the Earth to map out mineral deposits for potential exploitation.
The data from Galileo were exciting. While for years the surface of Europa has been known to be dominated by frozen water, Galileo saw that something was mixed in with the water, and, at first, that something was thought to be salts. Not "salt" as in the sodium chloride of your table salt, but more generically "salts" as in "things that dissolve in water and stick around when the water evaporates." You can imagine why that idea is exciting: if the surface is covered by things-that-dissolve-in-water-and-stick-around-when-the-water-evaporates that strongly implies that Europan ocean water has flowed on the surface, evaporated, and left behind salts.
Whatever else is in the ocean is left behind, too. Microbes, fish, whales, you name it, all sitting on the surface waiting to be seen. But there's more. If the ocean makes it to the surface it probably means, in general, that the ocean and in surface might be in intimate chemical contact. And the surface is rich in energetic molecules (for reasons we'll discuss below), so that means that energy could be being deposited into the ocean. And if you have water and you have energy? Well, you can guess where this train of thought leaves you.
But wait. Further analysis of the spectrum of Europa suggested that an equally good explanation is that – rather than salts – Europa is covered in sulfuric acid. While it sounds strange it is actually perfectly natural. The ices of Europa are constantly bombarded by sulfur which initially came from the volcanoes on Io (ok, this part is sort of strange). In fact, if you look at Europa you can quickly see exactly where the sulfur lands. There is a bullseye of red on the side of Europa that faces the bombardment.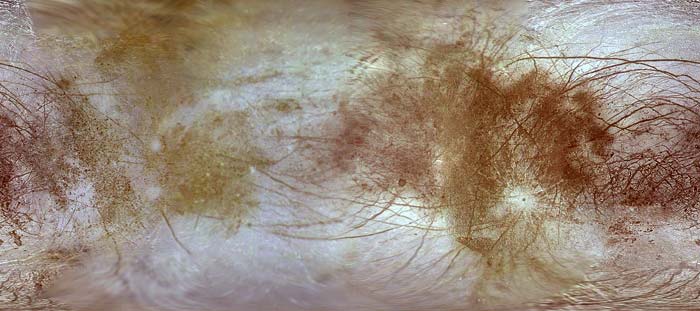 Here is the surface of Europa; guess where the sulfur is hitting!
And, in addition to making the surface rain, when the sulfur slams into the icy surface of Europa, the ice and sulfur react to make sulfuric acid. You can imagine the chemistry. Water is H
2
O. Sulfur is S. Add the two and it is perhaps not a surprise that you get H
2
SO
4
, or sulfuric acid. There are two things that are interesting about sulfuric acid on the surface of Europa. First, it means that the surface and the ocean might be completely disconnected. And, second, it is inevitable. Sulfur
does
bombard
Europa. Sulfuric acid
must
be on the surface.
So does that mean there are no salts? No whales? Well, no, not necessarily.
The real problem is that with the spectrograph that was on the Galileo spacecraft it was nearly impossible to tell the difference between salts and sulfuric acid. While the two sound very different, they do one thing the same: absorb water. And, once they do absorb water, when you look at the fingerprint of the reflected light with your spectrograph, what you mostly see is that water. There are differences, but you can only detect them if you look at that fingerprint finely. It's as if you were looking at real fingerprints and you could tell that two were similar because they generally had loops and whorls in the same places, but you didn't have a good enough view of the finger print to be able to discern all of the individual patterns that would tell you whose hand that finger belonged to. The Galileo spectrograph could tell there was adsorbed water, but it really couldn't tell who it belonged to, so, in the absence of concrete evidence, most of the discussion of the composition of the surface of Europa has been dominated by what people think
should
be there, rather than what the inconclusive data show. The consensus view that has settled in is that Europa has both salts
and
sulfuric acid on its surface. The sulfuric acid is dominant on the half of Europa that is bombarded by sulfur, while the salts dominate elsewhere.
And the main types of salts that are thought to dominate the surface of Europa are sulfates. "Sulfate" simply means SO
4
, so a sulfate salt is something like sodium sulfate – Na
2
SO
4
– or, one that has been mentioned quite frequently for the surface of Europa, magnesium sulfate, MgSO
4
. Magnesium sulfate sounds like a fairly random chemical for the surface of Europa, but it is not, for two reasons. First, it's a relatively common and important salt even on the earth. If you are in the hospital and your doctor does a blood test on you and fears you are low on magnesium, you will be given a solution of magnesium sulfate.
Terrestrial MgSO4


Second, it is, perhaps something we might expect to find on Europa. Experiments from more than a decade showed that if you take a meteorite – which might represent the types of rocks that the interior of Europa is made out of – and you put it in a pot of hot water for a while and then measure what is in the water when you are all done, one of the things that you are likely to get out of the meteoritic rock is magnesium sulfate. The argument here, though, is a bit circular. Magnesium sulfate is expected, something is seen that can't quite be identified, it is declared to be magnesium sulfate, and people say -- Look! This is probably true because it agrees with the earlier experiments.
It's all an interesting story, but wouldn't you like to know what is really going on? I would. While no spacecraft is going to be in the vicinity of Europa for at least a decade, in the thirty years since the Galileo mission was first conceived and designed telescopes on the Earth made advances that were – truly – inconceivable at the time. And while it's hard to beat flying up close to learn what is going on, we can now see things from the Earth even better than we could from Galileo.
It has been clear for a while now that it has been time to head out to a big telescope and figure out what the real story is.
[continue to Part 2]